Metallic materials and additive processes
improving product performance, lightening structures, reducing cycle times and process control
9

R&D engineers and technicians

5

scientific publications in 2021

2

patents filed in 2021
Our latest achievements
Our areas of expertise
Welding assembly
Superplastic forming
Combined high-temperature & superplastic forming
Pulsed power forming
Friction stir welding
Linear friction welding
Powder bed fusion additive manufacturing
Manufacturing of prototypes with fused filament fabrication
Our service and applications
Equipment use
Topology optimisation
Redesign of parts
Feasibility studies and POC (proof of concept)
Technical-economic analysis
Integrated product/process design
Development of demonstrators and prototypes
Optimisation of process parameters
Robotic metal high deposition rate cell

3D binder jetting printer: sand/ceramic

Metal materials: aluminium, titanium, steel, etc…

Other materials: PEEK and PEKK polymers reinforced with short carbon fibre, etc…
More about metallic materials and additive processes at IRT Jules Verne
Innovative metal processes can address industrial challenges of improving product performance, lightening structures, reducing cycle times and mastering processes.

The metal process team focuses on forming, solid- and liquid-phase welding, and additive manufacturing processes. The objectives are to develop new processes for forming metal materials and to adapt processes for innovative metal materials (high-elastic limit [HEL] steels, titanium alloys, aluminium alloys, etc.) through close collaboration with manufacturers, whether large groups or SMEs, and academic partners.

IRT Jules Verne's activities in metal processes is based on an excellent understanding of the parameters affecting processes, the development of such processes for the manufacturing of large individual and complex parts, and their robustness for industrial use. The research led at IRT Jules Verne takes into account the constraints of reliability and production rates.

IRT Jules Verne's metal process team, consists in 15 engineers and doctors working together with IRT Jules Verne teams specialised in characterisation, modelling and simulation in order to offer the most comprehensive solutions for each application.
Contact us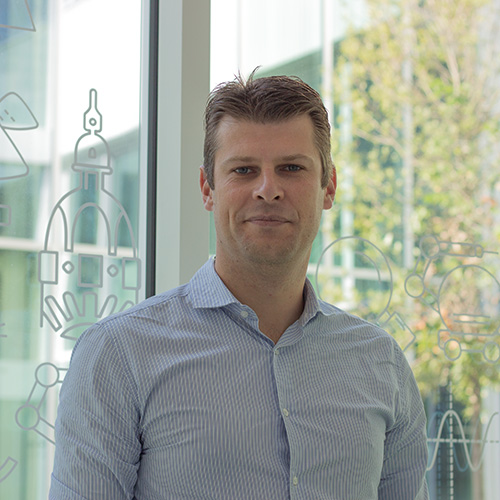 Grégoire BAZIN
R&T Manager, Metallic materials and additive processes
Contact us