European projects
Bringing our expertise to the European scene
IRT Jules Verne, a French research institute dedicated to manufacturing, brings its expertise and know-how to bear on the european stage through the conduct of R&D projects. Specialising in meeting market requirements, IRT Jules Verne is directed towards the strategic aeronautics, automotive, energy and shipbuilding sectors. These highly competitive industries are seeing the emergence of ambitious European programmes, which are supported by public authorities and include the European Commission's Framework Programmes for Research and Technological Development, as well as collaborative projects involving research and technology organisations (RTO), universities and industrial actors. Since 2015, IRT Jules Verne has taken a decidedly international turn and has set up a strategy to obtain European funding in order to bring to fruition a number of research and development projects in line with its technological roadmap.
Horizon Europe
IRT Jules Verne is active within the European Commission's Framework Programmes dedicated to research and development such as HORIZON Europe or HORIZON 2020. The Institute is particularly involved in the Second Pillar "Global Challenges and European Industrial Competitiveness" of Horizon Europe:

Cluster 4 "Digital, Industry and Space"
Cluster 5 "Climate, Energy and Mobility"
Key figures
| | |
| --- | --- |
| | |
| 1 team dedicated to european activities | Grants:€4.4M |
|   |   |
| | |
| Success rate: 27% | A dozen European projects won |
Europe Team
To meet its ambition, IRT Jules Verne has structured its business accordingly and in 2017, it set up a team dedicated to European projects with the aim of strengthening IRT Jules Verne's european collaborations and meeting the challenge of diversifying its funding. Its team supports IRT Jules Verne's researchers, but where necessary, its industrial and/or academic members can be brought onboard for different projects.
The Europe team is supported by R&D engineers, experts, technicians and project managers from IRT Jules Verne for proposals set-up and management of ongoing European projects.
 
 

Marie WEISS

Head of Europe team

 

Julio-Cesar DE LUCA

European projects technical leader

    

Corinne GODART

European projects assistant
3 areas of European action
 
 

Scientific and institutional lobbying

 

Set-up and management of European projects

 

Ties with the local ecosystem

POSITIONNING IRT JULES VERNE WITHIN THE EUROPEAN RESAERCH LANDSCAPE

 

RESPONDING TO CALLS FOR PROPOSALS

AND ENSURE MONITORING

 
ARTICULATE EUROPEAN ACTIVITIES

Lobbying, integrating networks of influence, institutional relations, taking a proactive stance on future framework programmes, developing network of European partners, …

 

Member of the European lobbying associations,  active member of several GTN (National Thematic Groups), and it is in regular contact with the various NCPs (National Contact Points).

 

Around 15 proposals submitted each year, a number expected to grow in the coming years.

Intervention as workpackage leader and coordinator. 

Possibility to solicit French end-users (aeronautics, automotive, naval, energy and integrators sectors).

Projects funded under European rules

Periodic technical and scientific reports.

 

Creating ties between Europe's activities and

local initiatives

Creating ties between Europe's activities and the existing regional ecosystem

such as the EMC2 cluster, WEAMEC, the Brussels Office for the Loire region, etc. 

Representative based in Brussels close to the EU institutions (Resource shared between the EMC2 cluster and 10 of its members, including IRT Jules Verne.)
Our EU projects
Our EU projects categorised by industrial sectors

and research expertise of IRT Jules Verne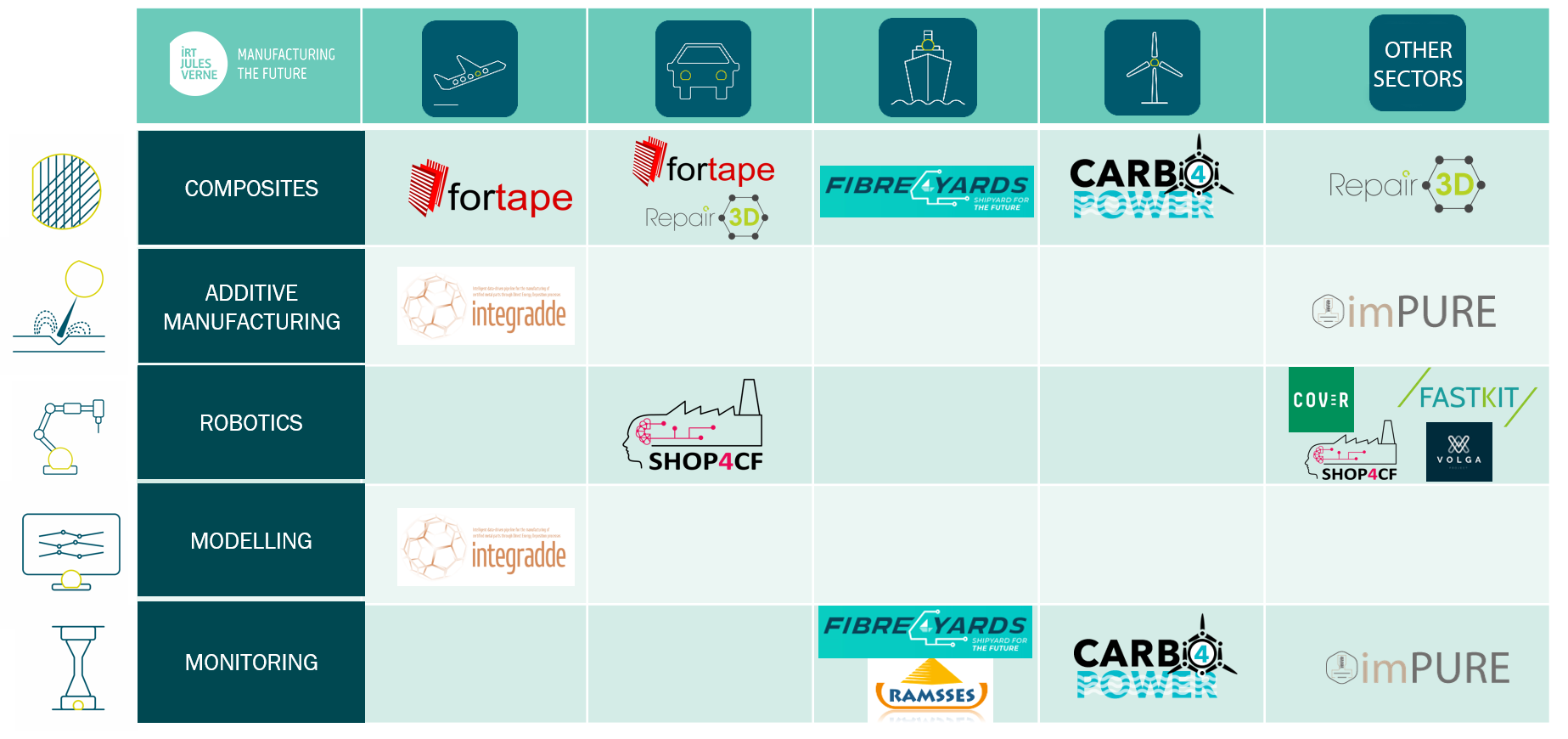 Contact