A VERSATILE LAB COBOT FOR NDT
A next-gen multitechnique module featuring a collaborative robot for inspecting complex structures in the lab
Inspection operations are generally considered bottlenecks in the ever-increasing flow of composite parts manufacturing. Manufacturers are constantly looking for ways to reduce the cost of testing, in particular by focusing on how to automate these operations. Progress made in the areas of robotisation and digital technologies has participated, to a great extent, in offering them very high-performing solutions for test data acquisition and processing.
Nevertheless, the complexity of set-up, especially in terms of security, as well as the necessity of specific programming skills, pose obstacles when it comes to inspecting average or low outputs of parts with complex and varied geometrical configurations.Manufacturers therefore find themselves confronted with the dilemma of having to choose between weighty investments that are hard to justify for such low outputs, or building up their workforce of qualified operators to perform the tests manually.Lastly, more often than not, traditional non-destructive testing methods such as visual, dimensional, and "in-process" inspections are performed and analysed independently from one another – but also separately from manufacturing parameter tracking. This can lead to a cost overrun for test budgets, a proliferation of test reports, and difficulties correlating indications of defects to root causes.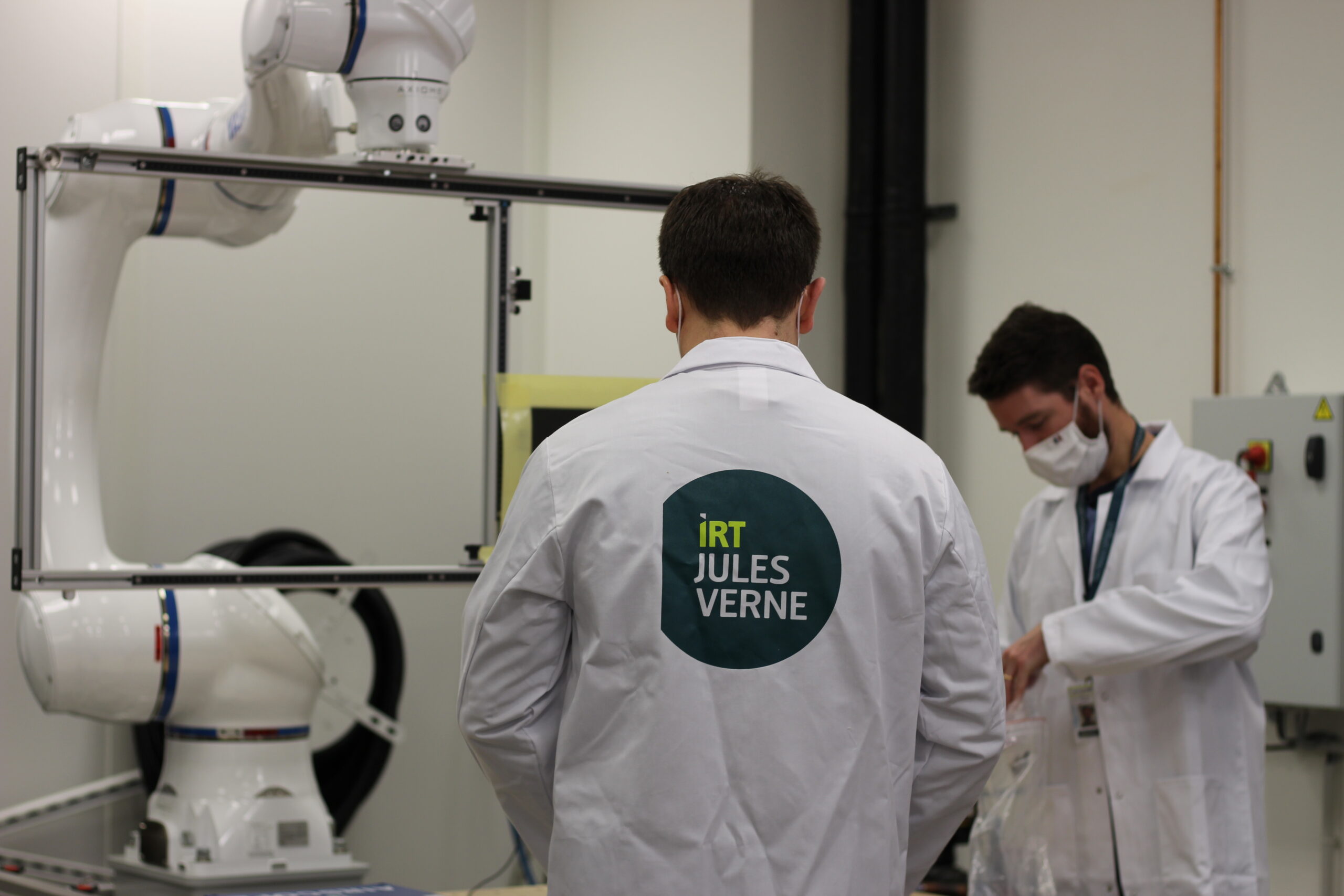 COMETE, a "cobotised multitechnique NDT module" is part of an approach that aims to improve flexibility, reduce the human factor and develop digital functionality in the field of non-destructive testing. COMETE is a R&D unit invented by the IRT Jules Verne, a mutualised technological research centre dedicated to manufacturing. It aims to improve industrial competitiveness and can serve in the development of automated NDT activities.
In a single module, many different inspections can be performed, using the various resources it has been equipped with. It has a cobotised arm and an immersion tank used for classic UT methods. It also has a work surface for dry coupled or wide field techniques, as well as electromagnetic, air coupled ultrasonic, dimensional and visual NDT.
Axiome, the key partner in the project with over 25 years of experience designing robotised solutions, has integrated the various components that make up the unit. Their work consisted of creating a laboratory NDT bench that is secure, ergonomic, flexible and scalable, making it stand out from traditional logical automatons. The collaborative robot chosen for the task is the 6-axis Motoman HC20DT IP67-rated model from Yaskawa, built to withstand a payload up to 20 kg. Operator safety is assured by Power and Force Limiting (PFL) technology that stops the robot automatically in the event that it comes into contact with a person.
IRT Jules Verne has pooled its skills in robotics and NDT into COMETE to develop inspection trajectories that require zero programming. This enables easy-to-use solutions to be proposed for scanning parts with complex geometrical configurations, for any type of inspection method available on this unit.
CIVA software carries out the simulation operations for verifying testability, test optimisation, selection and probe design or determining inspection strategies.
Testia, an Airbus subsidiary with 30 years of experience in aircraft structural inspections and non-destructive testing, acted as the product and solutions developer. It was responsible for developing the software that allows the 3D position data from the tool centre of the robot to be matched with the data from inspection devices in real time.
The module's configuration does not require a physical interface for interpreting the positions of the six axes into map coordinates. It also makes obtaining inspection data possible spatially as a cloud of points, or associated with the trajectory vectors, as well as 2D map representations in the case of nearly-plane parts.
The data are manipulatable in the form of 3D objects and therefore can be compared to the CAD drawings of the inspected structure without having to stretch 2D maps as textures. Data post-processing can be carried out as soon as acquisition has finished on the main console of the unit via the NDTKit UT software, also known as ULTIS. Complementary functions to come Housed in the "Characterisation, Monitoring and Testing" department's lab at IRT Jules Verne, COMETE was designed and built with the goal of creating the ultimate versatile cobotised means for performing a full range of non-destructive testing.
It intends to cover the entire inspection chain, from simulation and acquisition, to analysis and digital outcome. COMETE is an ideal prototype for implementing solutions to digitalise quality control operations. Its inventors envision integrating next-generation means like interactive 3D, augmented reality, scan projection, etc. for delivering test results to operators.
Through COMETE, the facility also stands to strengthen the relationship between the IRT Jules Verne and its partners via their own collaborative projects, as well as on European projects and research conducted under contracts. This would allow the facility to develop into a competence centre specialised in NDT that complements the region's industrial ecosystem perfectly.
Financing of the module was made possible through the French « Investissement d'Avenir » programme and Airbus.
>> You can find this article in the JEC Magazine of April 2022.
>> This equipment was presented during the COFREND day
>> A presentation of this equipment will be made during the JEC show on Tuesday, May 3rd at 16:00 on the Pays de la Loire booth pavilion!